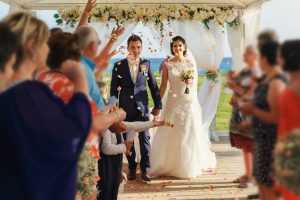 The rise of garden weddings is a great example that you can now take events, both formal and casual ones, outdoors. Aside from the usually air-conditioned function venues, having plants and trees as your natural decors can be a good change for the ambiance of your party.
Still not convinced? Here are some reasons you should try and take the fun outdoors, for a change:
Budget friendly
No need to worry about rental fees, limiting your events in a span of two to three hours or even choosing which food on the menu is more appropriate. Outdoor events usually cost less than indoor functions.
More intimate
Why find a place to rent when you have your whole backyard space? Friends and family know where you live. Welcoming people to your own space can give a more intimate setting, which calls for a more relaxed ambiance.
Appreciate nature
In a world where buildings and concrete establishments are practically everywhere, having a party in the midst of nature can be a good deviation from the norm. Enjoy natural breeze, listen to the bird's sing, and learn to appreciate the beauty of nature once again. All while being surrounded by yummy food and great company.
Be in charge
Afraid that the rain would suddenly pour, or that the sun would be too hot? Worry not as you could always be in-charge. Not of the weather, but of how you handle your party to cope with the weather. Rental for clearspan tent and other kinds of outdoor tents are available almost anywhere. With this, you can be in charge not only of the program, the food and the party in itself but even your whole venue.
Take the fun out and appreciate the beauty of nature. Even things as simple as that can become more fun and memorable with friends and families around to share the experience with.