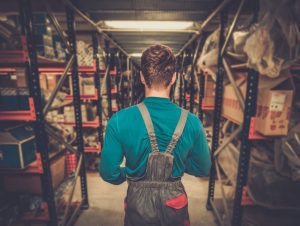 Depending on your business needs and the space available, there are different types of storage solutions to choose from. Whilst most warehouses and storage facilities are using the pallet racking systems, this is not applicable to smaller spaces.
If you are looking to maximise the potential of a small storage space for your retail business, a heavy-duty long span shelving system could be the best storage solution. Read on to find out why.
Accessibility
Compared to systematic pallet racking used on bigger warehouses and storage facilities, heavy-duty long span shelving perfectly fits smaller storage spaces. Aside from being cost-effective, customisable and capable of being expanded vertically, it allows easy access for storing and removal of goods. It works like the shelves inside the supermarket.
Movability
Do not be deceived by its looks; long span shelves are strong yet lightweight. A normal long span shelf is made of detachable racks and posts that can easily hold at least 2,000 pounds. But more importantly, you can easily dismantle or move these shelves if there is a need for major arrangements. Other than being a standalone shelf, a long span shelf can be attached as part of a pallet rack system.
Versatility
The racks of long span shelves can be customised to fit the size of your items or packages and maximise the space. This type of shelf was designed to be adjusted vertically, an efficient multi-tiered storage that allows for additional upright expansion. This way, you can increase or reduce the height of each rack depending on your requirements.
Durability
Depending on the products that you will store, there are different types of durable materials you can use as racks, including chipboard panels, melamine, mesh, galvanised ply and steel. Whilst most rack materials offer the same quality, think how the packaging and weight of the products will affect the durability of the rack. This can help you determine how long these racks will last before you order a replacement.
Longspan shelves are a great alternative for warehouses with a limited storage space. Look for a reputable provider and installer of this type of shelving system and start enjoying the benefits of maximised storage space.